Supporters and Helpers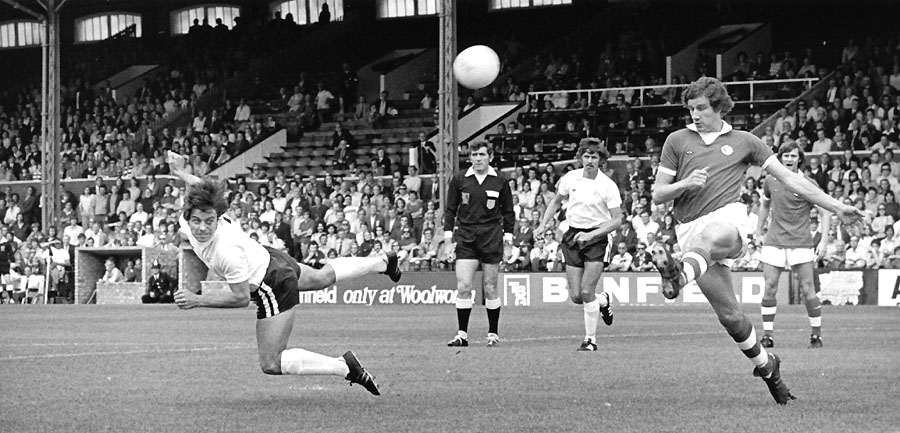 You may think that Ashwater consists of Ken Coton poring over his collection of old pictures and Martin Plumb chipping in with facts and figures. Well, it does, of course. But that's by no means the whole story. Behind the scenes are a whole host of supporters and helpers vital to Ashwater's continuing success.
So thank you to these friends, helpers, encouragers and all-round good eggs who have helped us in so many ways throughout the years.
Here's a list of our 'Friends of Ashwater', in no particular order of relevance (so alphabetical):



ANDY COX - Friend of Martin who proofread the first two

Ta
les From The Riverbank books.

LIAM CURRY - Editor and journalist who takes every opportunity to spread the Ashwater word.

ROBERT FENNELL - Like Ken, Robert has supported Fulham since boyhood. He too lives in Whitton (though on the wrong side of the tracks). Meticulous grammarian, invaluable proofreader and staunch backer of our ventures.

FULHAM SUPPORTERS TRUST - Great supporter of Ashwater Press.

JAVIER GARCIA - Top freelance photographer who runs Backpage Images providing professional sports images. Javier was of great assistance during the production of our recent Fulham Strikers book.

DELIA GLEAVE - Instigator of the Access-all-Areas book that we published. She is a one-time English teacher and helps us with grammar in books we are producing. She is an incarnation of our dreaded Dot (see below).

PETER GRINHAM - Ashwater devotee who has helped to spread the word amongst anyone who would listen!

DAVID HARRIS - Owner and writer of Craven Cottage Newsround, a promoter online of all things Ashwater.

MICHAEL HEATLEY - A respected supporter and helper of Ashwater, Michael formerly had his own publishing company - Northdown - and produced a number of books on Fulham under that imprint, as well as cooperating with Ashwater on our books.

ED HOLFORD - Major contributor to the Friends Of Fulham website and prime mover in getting the Johnny Haynes statue at Craven Cottage. Another friend and promoter online of Ashwater merchandise.

JESSICA HUTSON (nee Plumb) - Martin's daughter and proofreader of the

Tales From The Riverbank

books and the Johnny Haynes book.

DAVID INSTONE - Journalist with The Independent and a Wolves and West Brom devotee. Has always helped with advice and suggestions and has supplied rare archive Fulham pictures.

DAVID LLOYD - he of the esteemed and much lauded TOOFIF fanzine. David is a promoter of our work, always finding space in his magazine to publicise our books and fearlessly campaigning for the Ashwater books to be stocked by the club. We owe him a lot.

GRAHAM McDERMOTT - a tireless backer, in the literal sense, of our books, and always encouraging and inspiring us.

DAVE PEARCE - An enthusiastic supporter of Ashwater publications, Dave contributed a section on Fulham kit through the ages in the Fulham - The Team book.

ALAN PINNOCK - The man in charge of the photographic archive at the Daily Mail. A true football fan, especially London clubs, and a lover of 60s and 70s football matches. Alan was a significant helper with images for Johnny Haynes - The Maestro, When Fulham Went To Wembley and Fulham Strikers, and we owe him a lot.

JOANNA PLUMB - Martin's daughter. Displayed Photoshop expertise on images in the Riverbank books.

DOROTHY RAVENSWOOD - For her scholarly and professional sub-editing and many helpful suggestions during the production of Fulham Photos and Johnny Haynes - The Maestro. No longer with us, but she was the final arbiter on questions of grammar. ('No, you can't say

that

' was a frequent observation from our revered, fearsome and much-missed Dot.)

SHEILA SEYMOUR - a massive help and researcher in producing the Johnny Haynes book. Sheila worked on this from day one, and her assistance was invaluable.

KEN SIMPSON - a help in providing Fulham images from the late eighties and early nineties.

NEIL SPRINGATE - from the Fulham Supporters' Trust, Neil has been a supporter of Ashwater for many years and continues to promote our books and encourage sales through the FST website and its communications.

ED VANSON - Fulham's Stadium Tour Manager, a fount of enthusisam and ideas.

VIVA EL FULHAM (website) - aka Keith Gaskin and David Marsh. The pair run an excellent website and have been constantly promoting our work on their site as well as adding some new commercial ideas. The have also been instrumental in helping us spread the Ashwater word via their many followers on Twitter.

ALAN WILLIAMS - Alan sadly died a few years ago, but we remember him for his constant encouragement and support through the darker moments when producing our books.

DAVE WILSON - For his general enthusiasm and for his detailed proofreading of the Tales From The Riverbank books and the Fulham Strikers book. Like Martin, he is a Laleham lad, so he had to make the list.

THANKS ALSO TO:



FULHAM CHRONICLE - HAMMERSMITH - especially Anne. Very helpful in very quiet surroundings (shame about the equipment and chairs!).

BRITISH LIBRARY NEWSPAPERS - COLINDALE - All the staff were very co-operative and helpful, especially in getting as many reels of archive material together for Martin as quickly as they could turn them round.

The HAMMERSMITH AND FULHAM library and archive.

AND NOT FORGETTING:



A big thank you to those journalists who have promoted our work including

The late IAN WOOLDRIDGE

HARRY HARRIS

JEFF POWELL

FRANK KEATING


---
BACK TO ASHWATER MAIN PAGE