Yes, it's all about Fulham's ground, although the story starts well over 100 years before the football club arrived. Indeed, there was a Craven Cottage on the site in 1777.
The story comes right up to date with the building of the second Riverside Stand.
Along the way there is drama, tragedy, high-society parties, the Craven dynasty, heroes and villains, financial crises, the near-demise of the football club, the complexities of the original Cottage building and its numerous tenants, followed by the full 130-year evolution of the football ground's four sides and the current Cottage building - and much more. And this all on a tiny 7-acre site once surrounded by orchards and farms, then by industrial wharves and now by prestigious living accommodation.
---
You can go straight to BUY NOW buttons HERE, or carry on reading and order later down the page.
---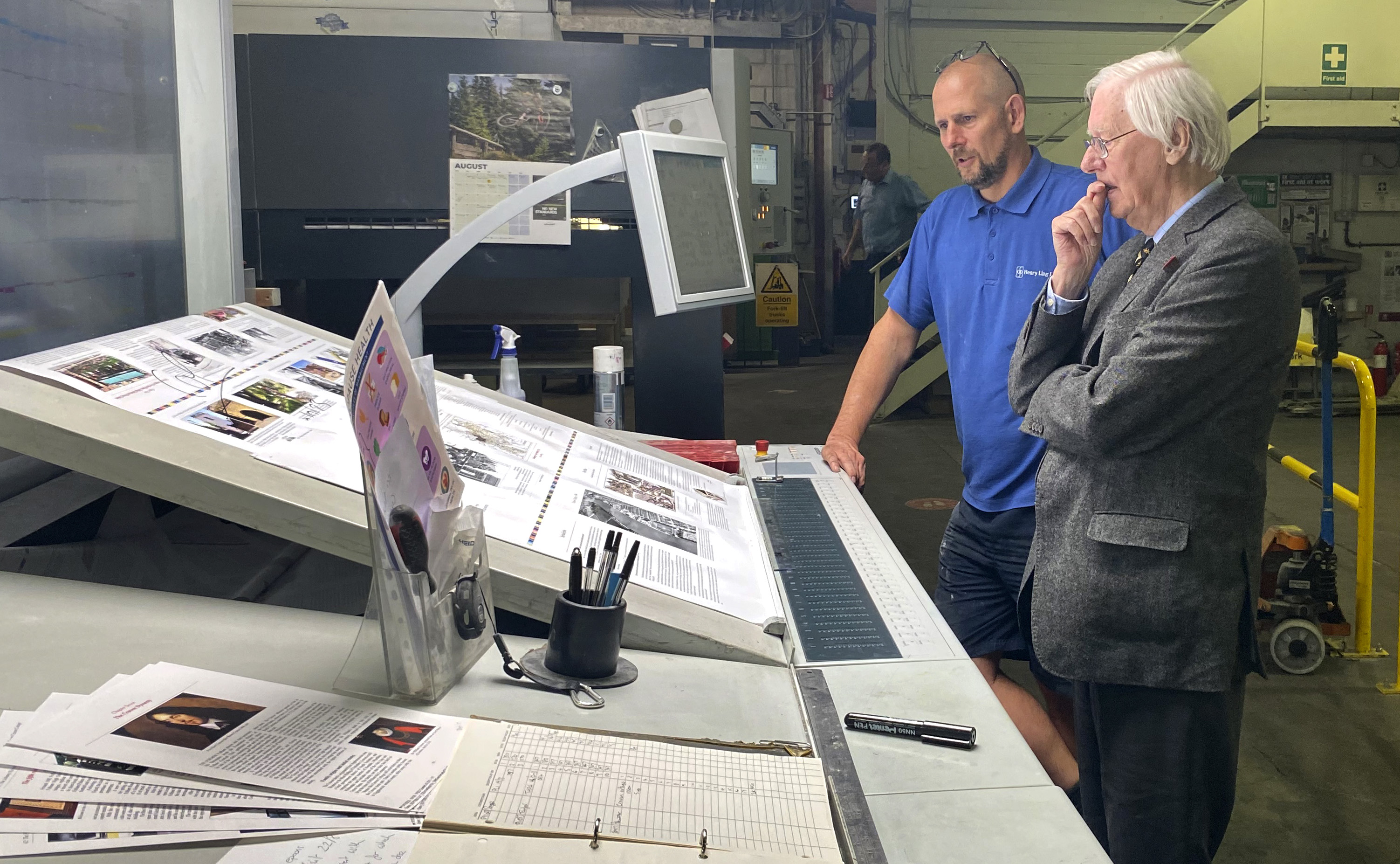 Ken admiring the first printed sheets at the printers.
The book is an A4 colour hardback of 280 pages, set in 43 chapters, with over 570 illustrations, and full, we trust, of Ashwater research and quality. It is enhanced with a foreword from Simon Inglis, the renowned author, historian and football grounds expert.
This is a unique book, the like of which is unlikely to be put together again.
To view more details of the book's chapters, click HERE.
Printing and postage costs have spiralled during the two years (yes, two years!) we have spent preparing the book, but in these uncertain times we have decided to keep the price to under the £30 mark - so it's £29.95. We'll add £4 to cover most of the UK post and packing. We'll also offer a discount of over 15% if you require two copies, saving over £10!
Price per copy, including post:
UK - £33.95 Europe/ROI - £43.95 Rest of world - £59.00
Price for 2 copies, including post: UK - £57.00
---
TO ORDER
To order via PayPal buttons, please click HERE.
This should be the easiest way to order, but if you have any problems accessing the ordering page, please paste this URL into your browser:
www.ashwaterpress.co.uk/ordercravencottage.html
If, however, you wish to order by bank transfer or you would like us to take your order by card payment, please phone Martin on 01344 624231 or Ken on 07764 506489. (Please try again later, if we don't answer immediately!)
Any problems, please use these phone numbers to let us know, or email us at ashwaterpress@btinternet.com.
---
Thanks from Martin and Ken.