At the heart of this very entertaining book is a story of life behind the scenes and on tour with some of the biggest names in show business. The writer tells tales and shows pictures of life on the road, travelling on the tour buses, the set-up before gigs and the relaxations after the show, and including many action shots of 'live on stage'!
Paul "Rusty" Cantwell spent much of the 70s and 80s working with and for the likes of Suzi Quatro, Hot Chocolate, Alison Moyet, Stray and Kid Creole and the Coconuts - oh, and Frank Sinatra, Paul McCartney and Elton John to name just a few of the others. To prove it, among his stories you'll find many of his previously unpublished photographs! Suzi herself praises the amazing work that he and the rest of the crews put into her shows in her foreword to his autobiography.
<![if !supportEmptyParas]> <![endif]>Right from being given his own first drum kit and forming a band at the age of thirteen, Paul has us laughing with him as he joins - and leaves - the Junior Leaders Regiment of the Royal Armoured Corps and the 2nd Royal Tank Regiment, holds up twenty miles of traffic on a motorway, gets himself locked inside a freezer, drives into a war in Moscow, just misses featuring in The Movies, finds himself en route to Russia without a visa and has a brush with someone from London's most notorious gangland family. He narrowly escapes blowing up the star on stage at Reading Festival, gassing a stage crew with dry ice in Batley, setting fire to a venue in Camden and being thrown out of a Bristol hotel unless the right doors are replaced in the right doorways.
Here's what Suzi Quatro says:
<![if !supportEmptyParas]> <![endif]>"A good roadie must fix the problem before you realize it's happened. They
are the unsung heroes of every gig. They have to be everywhere at once, run
like a marathon sprinter, and – not be seen.......He is not seen, he is not heard, but he is there. Rusty (Paul Cantwell) was a 'good' roadie."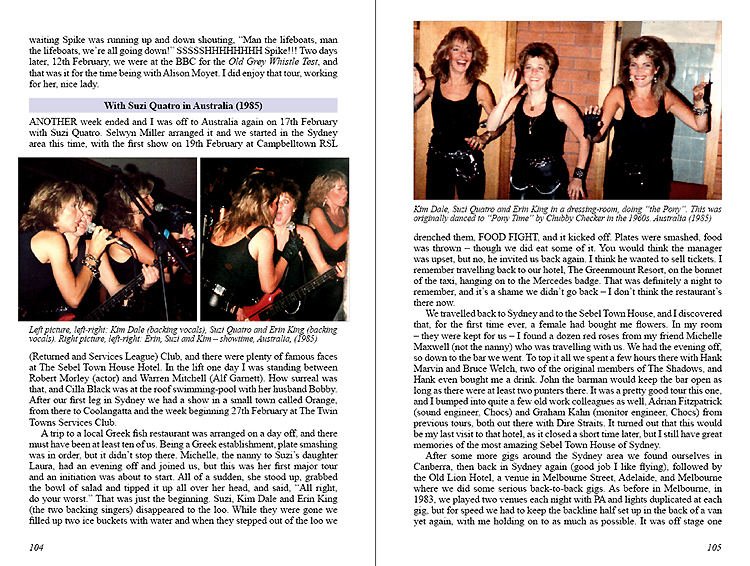 ACCESS-ALL-AREAS is a sewn paperback of over 200 pages printed on art paper. It contains around 200 photographs, many previously unseen.
Page size is 6" x 9" (for Europeans, that is 15 x 23 cms aproximately).
Price:
FOR COLLECTION ONLY: £10.00
For collecting the book, please email paul.cantwell@hotmail.co.uk or
or phone 01908 635 917
FOR POSTING - please use correct postage rate!
£11.95 including delivery in UK
£14.95 including delivery in Europe
£17.95 including delivery in rest of world
PLEASE USE DROP-DOWN MENU BELOW.